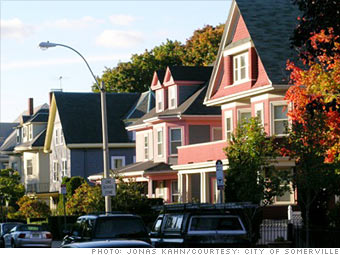 A look at Somerville. From CNN.
Yes, America may not be interested in measuring Gross National Happiness right now, but that doesn't stop cities from trying it on their own.
The Christian Science Monitor
reports
that Somerville, Massachusetts included a life satisfaction survey with its annual census. The ten-question survey went out to 80,000 citizens in February.
Some households will also receive more detailed phone interviews. After the results are tabulated, they will be presented at town hall meetings, where citizens can decide how to use them. City officials hope to create a happiness index after a few more years of data.
Mayor Joseph Curtatone started the initiative to learn what factors influence people to live in certain areas. He says, "I don't rely just on the financial numbers. [That] doesn't tell you why your family decides to stay here."
One other U.S. city that has tried happiness initiatives is
Seattle
, but that survey was conducted by a non-profit organization, not the government. As always, you can stay up to date about all the multitude of governments that are trying out Bhutan-like happiness measures by clicking on my
Gross National Happiness tag
.